NIAA WEEKLY BULLETIN
FEBRUARY 18, 2021
Get Ready to Step Up Sustainability Efforts
by Hannah Thompson-Weeman
It is anticipated that sustainability will be a suggested inclusion for dietary guidance at the UN's Food Systems Summit in September 2021.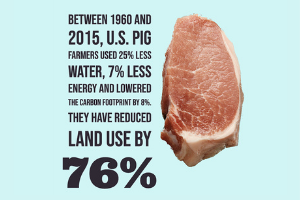 More news in ANIMAL AGRICULTURE
Smart farm technologies: shaping security on farms Data-led farming is improving security and preventing losses, along with other benefits to agriculture.
Research identifies potential sustainability benefits for beef Syngenta Seeds, in partnership with the University of Arkansas Resiliency Center (UARC) unveiled newly published research highlighting the potential for producers to reduce their footprint.
4 things animal ag can learn from the human response to COVID-19  National Pork Board's Chief Veterinarian, Dave Pyburn, DVM, shared four things he believes that the animal agriculture industry can take away from how humans responded to the pandemic.
Grant to help fill gaps in how livestock manure management affects antibiotic resistance Researchers at Iowa State University recently received a $1 million grant from the U.S. Department of Agriculture – National Institute for Food and Agriculture to study how manure management systems affect the development of bacteria capable of resisting antibiotics.
Campylobacter strains exchange genes, can become more virulent and antibiotic resistant New research from North Carolina State University has found that Campylobacter bacteria persist throughout poultry production.
Utah egg farm push rules to free hens from cages   Utah egg-producers work with legislators to on a bill mandating cage-free environment by 2025 to help prevent possible tighter regulations.
Natural gas shortage requires changes on feedyards and packing plants Ben Weinheimer, vice president of Texas Cattle Feeders Association, shares how their members have taken action to conserve the natural gas supplies on feedyards.
Chicken nuggets for the low, low price of $23 In a private club in Singapore, guests can order a Chinese-American dish including four lab-grown chicken nuggets for $23.
BECOME A MEMBER
Become a member of NIAA to network with a diverse audience, influence industry directed solutions and stay informed on information within animal agriculture. Join today!
OPPORTUNITIES in Animal Agriculture
American Boer Goat Association hiring Executive Director
The American Boer Goat Association (ABGA) is a founding member of the American Goat Federation. ABGA is a breed registry established in 1993 – a young organization with a lot of potential and a brand new state-of-art office building in San Angelo, Texas. ABGA is actively searching for applicants to fill their Executive Director position. The Association is seeking a dynamic and experienced business professional from the livestock industry. A tremendous opportunity exists to drive technological efficiencies and process improvements for a results oriented executive with a proven track record.
Learn more by visiting here.
Aspire Food Group Seeking Senior Animal Nutritionist
The Animal Nutritionist will spearhead a research program to improve the cricket feed, with an eye on improve the quality and quantity of the macro and micronutrients of the crickets while reducing overall costs. The role is within the R&D division and will report to the VP of Research & Development. This role will be an important component to our existing team and will position Aspire Food Group to address the massive market potential ahead. The position is located in Austin, TX.
Learn more or apply here.