Beef value jumps to record with global demand
Value climbed 33% in March to a record $1.07 billion, according to data from USDA in an analysis from USMEF. Export totals were up 1% from a year ago.
Ben & Jerry's to cut dairy emissions by 2024
Ben & Jerry's aims to reduce GHG output by half the industry average. Once proven, pilot project initiatives will expand to farms across their global dairy supply chain.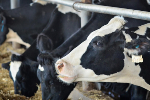 BECOME A MEMBER
Become a member of NIAA to network with a diverse audience, influence industry directed solutions and stay informed on information within animal agriculture. Join today!
SUBSCRIBE
Subscribe to our newsletter to stay on up-to-date on our events and the latest news in animal agriculture!