The second cohort of the National Institute for Animal Agriculture's (NIAA) Advanced Training for Animal Agriculture Leaders participated in their second in-person leadership training session in Portland, OR.
In January, NIAA announced the second cohort of the Advanced Training for Animal Agriculture Leaders. This leadership training course is sponsored by the United Soybean Board and was created by NIAA to empower animal agriculture professionals to strengthen previous leadership development experiences and collaborate with peers across the industry.
During their time in Portland, Cohort 2 participants visited Beef Northwest Feeders, Threemile Canyon Farms, Olympia Provisions, and the Port of Portland Grain Terminal.
Beef Northwest Feeders
Beef Northwest began in the 1870's as Wilson Cattle Company and has developed into a people-focused company where they care for cattle and produce healthy beef for consumers while supporting our customers and playing a role in economic sustainability in agriculture.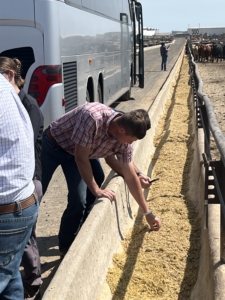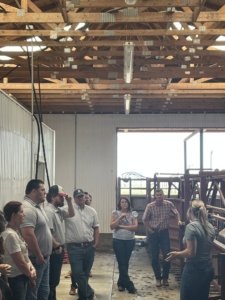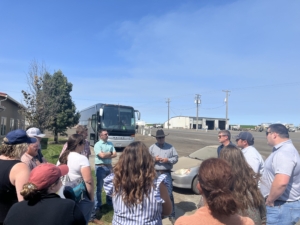 Threemile Canyon Farms
Threemile Canyon Farms started farming in 1999 with the intent to make it a special place that demonstrates our respect for our people, community, and natural resources. They were the 2020 U.S. Dairy Sustainability Awards recipient for Outstanding Dairy Sustainability.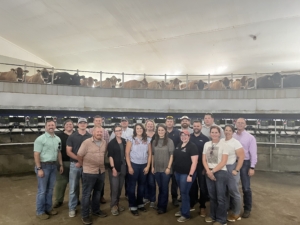 Olympia Provisions
Olympia Provisions is an American meat and restaurant company that produces artisan charcuterie based out of Portland, Oregon. Their mission is to redefine American charcuterie and developing a Pacific Northwest, small family Farmer Network so we can consistently source regenerative, humanely-raised pork.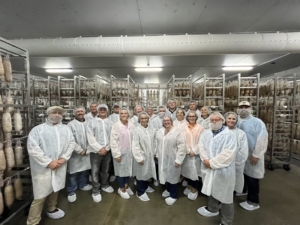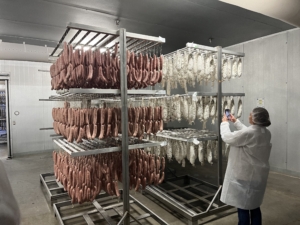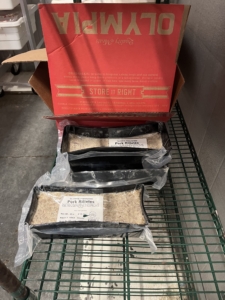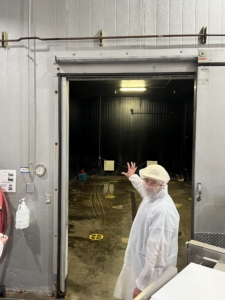 Port of Portland Grain Terminal.
At the port of Portland, at Terminal 5 you'll find 159 acres of a rapid-handling grain elevator and potash exporting facility. On average, 2-4 million tons of grain is shipped through Portland annually.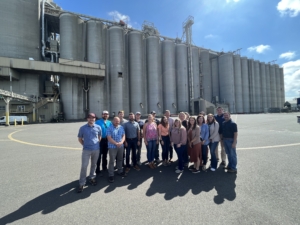 After the tours, cohort members took the opportunity to work on their small-group leadership capstone project that will be presented at Annual Conference in April 2024.
The second cohort of the Advanced Training for Animal Agriculture Leaders represents a range of agricultural sectors to advance animal agriculture's role in today's food system. Participants include Tressa Lacy, TransOva Genetics; Jared Bramer, Kemin Animal Nutrition & Health – North America; Amanda Butterfield, North American Meat Institute; TJ Flax, DTN; Trisha Klement, Vitek Lange PLLC; Phillip Lancaster, Kansas State University; Miriam Martin, North American Meat Institute; Chandler Mulvaney, National Cattlemen's Beef Association; Jake Renner, American Gelbvieh Association; Jennette Rietcheck, Norbrook; Kayla Rink, Dairy Farmers of America; Grant Sardella, ABS Global; Jennifer Schmitt, Institute on the Environment, University of Minnesota; Austin Snook, Merck Animal Health; Sarah Thomas, The Ohio State University; Brandon Treichler, Treichler Consulting Services; Stephanie Ward, NC State University; Jonathan White, United Producers; Tim Bardole, United Soybean Board; and Shannon Ellis, United Soybean Board.
Learn more about the leadership program by visiting https://www.animalagriculture.org/leadership-program/.
https://www.animalagriculture.org/wp-content/uploads/2023/08/Portland_7.28_Port-Grain-Terminal_group-1-scaled.jpg
1920
2560
morgan.young@animalagriculture.org
http://www.animalagriculture.org/wp-content/uploads/2020/12/NIAA-logo-horizontal-full-color-300x74.jpg
morgan.young@animalagriculture.org
2023-08-23 17:24:42
2023-08-23 17:24:42
Cohort Two Tours Portland's Agriculture Space