It is that special time of year that American's love: a reflective holiday focused on food. Farm Bureau reports an average cost of a Thanksgiving feast for 10 has decreased a couple dollars from last year to $46.90.  Now that we know the price tag, what do we know about the hard work and inputs it takes to set the Thanksgiving table?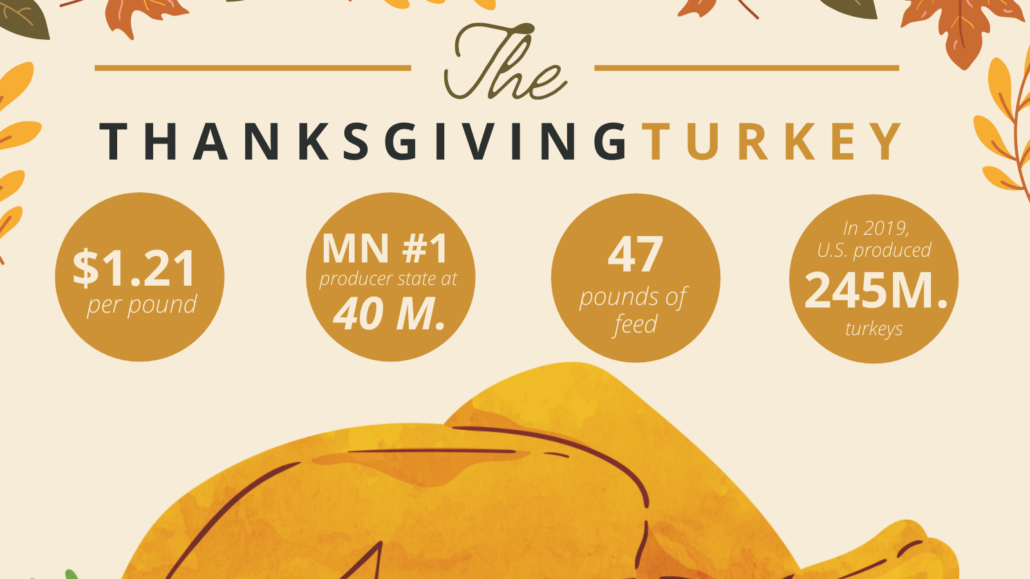 Sustainability
This year, the average cost of a turkey on Thanksgiving is down7% from last year at $1.21per pound. For a little perspective, in 1910 a turkey cost $8.22per pound (adjusted for inflation, of course). We can thank the American producers for the advancements and innovation in nutrition, housing practices and sustainability.
USDA Economic Research Service (ERS) is projecting U.S. producers will raise5.74 billion poundsof turkey in 2020. Production is down a little over a percent from last year, and all things considered in 2020, that is something to be thankful for this season. If we were producing turkey with technology from the 1970s, it wouldtake 132 millionmore turkeys than we produced last year to meet the consumer demand. The innovation to increase the amount of meat per bird to 15 to 25 pounds has allowed us to meet that demand by spending less.
Economic Impact
According toAFIA, a 20-pound turkey will gobble down nearly 50 pounds of feed in its lifetime. American turkeys eat9.9 million tonsof feed annually, consisting of mostly corn, soybean meal and sorghum. There are roughly 2,500 turkey farms in the U.S., but the turkey industry supports more than440,739 jobswith direct wages of $24.1 billion, many of which are in rural communities.
Animal Welfare
All turkeys are raised cage-free in large, open barns or with access to outdoors. The National Turkey Federation works with turkey growers, veterinarians and industry experts to develop, apply and sustain strict standards for animal care. Federal regulations have prohibited hormones for more than 50 years, so all turkey could be labeled "no hormones added."Here is a great resource to understand why hormones are not used in poultry.  Take a tour with Temple Grandin through a Turkey Farm & Processing Plant to get an insider's view of the guidelines followed by the turkey sector.
Food Safety
When handling any raw meat, there is a risk for foodborne illness. From proper handling and preparation before cooking to appropriate storage of leftovers, there are plenty of guidelines to keep you safe. The National Turkey Federation'sThanksgiving 101has the scoop on safety (and a quite a few other things!).
For more turkey information, USDA's "Turkey from Farm to Table" answers the questions about the Thanksgiving journey. 
Thanksgiving could look a little different for families across the country this year. Regardless of how you celebrate, we wish you a wonderful holiday. Thank you for reading.
https://www.animalagriculture.org/wp-content/uploads/2016/07/pexels-pixabay-53460-e1610386870391.jpg
375
300
Morgan Young
http://www.animalagriculture.org/wp-content/uploads/2020/12/NIAA-logo-horizontal-full-color-300x74.jpg
Morgan Young
2020-11-24 13:46:12
2021-01-26 19:59:06
The Gossip Behind the Gobble