WEEKLY BULLETIN MAY 24: HOW WAR IS IMPACTING THE GLOBAL FOOD SYSTEM
Sustainability index of US swine industry in development

Texas A&M University has received a grant from National Pork Board to examine natural variation in nutrient digestion and improve precision in swine industry.

How Russia's war on Ukraine is impacting the global food system

Russia's invasion of Ukraine is disrupting supply chains, sparking fears over food security and igniting a debate over the role that animal agriculture plays in the bloc's food system.
MORE NEWS
IN ANIMAL AGRICULTURE 
Input for Alternative Products in Food & Beverage – SASB is inviting input from market participants on alternative product strategy in the Food Retailers & Distributors, Meat, Poultry & Dairy, and Processed Food industries. SASB is interested in investor perspectives on metrics for this issue.
Agriculture truly feeds the U.S. economy – Nearly 18% of the nation's economy and 30% of American jobs are either directly or indirectly linked to the food and agriculture sectors, according to a new report.
USDA grant to help UF scientists increase beef cattle reproduction – With a $650,000 grant from the USDA, researchers at the University of Florida are seeking to increase beef cattle reproduction rates through examining embryo conditions in the uterus.
570,000 broiler chickens to be destroyed as bird flu hits Nebraska poultry farm – The state Agriculture Department said the farm has been quarantined and all 570,000 birds will be humanely destroyed. Producers in a 6.2-mile radius will not be allowed to move poultry products on or off their premises without permission.
Sacramento using goats, sheep for fire prevention – To reduce the danger of wildfires, Sacramento is using an unusual, four-legged tool: they're putting sheep and goats to work eating their way through the grasses of the 212-acre Natomas Regional Park.
Environmentally conscious consumers more likely to buy chicken raised on insects or algae –  Alternative poultry feed can make noticeable differences in the look of the meat—in this case more intense red and yellow hues—which makes consumer education important.
US agents seize prohibited poultry, pork at Mexican border – U.S. Customs and Border Protection officers and agriculture specialists, in a single enforcement action, seized over 120 pounds of prohibited fresh pork and poultry meat at the Laredo Port of Entry on the Mexican border.
Beef advocates share their stories in celebration of National Ag Day – In honor of National Ag Day, the National Cattlemen's Beef Association is sharing the stories of two advocates who play different roles in the industry, but both understand the importance of inspiring the next generation to get involved.
New partnership to ease port congestion and restore disrupted shipping services – Agriculture Secretary Tom Vilsack has announced plans for prepositioning containers of agricultural goods near port terminals to help improve service for shippers of U.S. grown agricultural commodities.
Farmers discuss cow housing, restriction of movement – An expert on how environments affect dairy cattle says more consumers are bringing the animal welfare discussion to the dairy industry.
EVENTS
IN ANIMAL AGRICULTURE
OPPORTUNITIES &
ANNOUNCEMENTS IN ANIMAL AGRICULTURE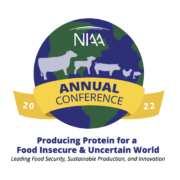 Our 2022 Annual Conference was a success! Thank you to all of those that joined us both virtually and in person in Kansas City this year. We hope you enjoyed insights from the speakers and panelists. We found them incredibly valuable as we continue to examine how we produce protein for a food-insecure and uncertain world.
If you were unable to attend portions of Annual Conference, the recordings are available in our store and are complementary to participants.
————————————–
Update Your Council Preferences
NIAA is updating the lists of council members. Whether you attend every council meeting or have never attended, please review our council list and check the boxes for each council you are interested in. To review the purpose of each council, please visit our website here.
————————————–
Email communications@animalagriculture.org to highlight a job opportunity available within animal agriculture.