WEEKLY BULLETIN MAY 12:
BEEF VALUE JUMPS TO RECORD WITH GLOBAL DEMAND
Beef value jumps to record
with global demand

Value climbed 33% in March to a record $1.07 billion, according to data from USDA in an analysis from USMEF. Export totals were up 1% from a year ago.

Ben & Jerry's to cut dairy
emissions by 2024

Ben & Jerry's aims to reduce GHG output by half the industry average. Once proven, pilot project initiatives will expand across their global dairy supply chain.
MORE NEWS
IN ANIMAL AGRICULTURE 
Is it time to shift strategies against avian influenza? – A different approach to control the virus in commercial poultry flocks could be more effective, said researchers from the University of Sydney.
Fertilizer shortages finally give manure a chance – Skyrocketing prices for chemical fertilizers is creating hardship across the US farmscape — but there's a silver lining: Manure is making a much-needed comeback.
Animal health: putting together a first-aid kit for livestock – Any animal can suffer a sudden traumatic injury. Professor Cheryl McCrindle, a practicing veterinarian and professor at the University of Pretoria, details how to treat cattle, sheep and goats in emergencies.
Modified-live or killed: a crash course in vaccine types – Both modified-live virus vaccines and killed vaccines have been known to stimulate immunity in cattle. Find out which vaccine type is right for your operation.
Keeping cows cool in the heat – With an extreme heatwave hitting the midsection of the country, farmers are ratcheting up their cooling systems to ensure their cows are as comfortable as possible. Here's how.
Blue Ocean Barn's red seaweed is cutting methane emissions for US dairy brands – A red seaweed supplement is set to 'dramatically reduce' dairy methane emissions for brands including Clover Sonoma and Straus Family Creamery.
Merck Animal Health donates $500k for feedlot expansion – Merck Animal health donated $500,000 to West Texas A&M University to help support a feedlot renovation and expansion project at the Paul Engler College of Agriculture and Natural Sciences.
Land-grant universities key to agricultural biosecurity – Land-grant universities must provide a first line of defense to protect public health, economic and national security, and the livelihood of farm communities when faced with disease threats to U.S. agriculture, according to a new report issued by a D.C.-based, bipartisan, blue-ribbon commission.
EVENTS
IN ANIMAL AGRICULTURE
OPPORTUNITIES &
ANNOUNCEMENTS IN ANIMAL AGRICULTURE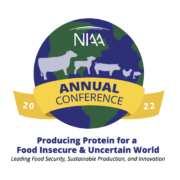 Our 2022 Annual Conference was a success! Thank you to all of those that joined us both virtually and in person in Kansas City this year. We hope you enjoyed insights from the speakers and panelists. We found them incredibly valuable as we continue to examine how we produce protein for a food-insecure and uncertain world.
If you were unable to attend portions of Annual Conference, the recordings are available in our store and are complementary to participants.
————————————–
Update Your Council Preferences
NIAA is updating the lists of council members. Whether you attend every council meeting or have never attended, please review our council list and check the boxes for each council you are interested in. To review the purpose of each council, please visit our website here.
————————————–
Email communications@animalagriculture.org to highlight a job opportunity available within animal agriculture.