Upcoming Council Meetings
Members: register for the Global Animal Health and Emerging Disease council meeting on June 7 at 2 p.m. CST. Council chair, Dr. Julie Smith, will lead the council in reviewing and approving resolutions. Register here.
Animal Identification and Information Systems Council is hosting a USDA Update meeting on June 8 at 2 p.m. CST. Dr. Aaron Scott from USDA-APHIS will share the latest news and Council co-chairs will moderate a Q&A session. Register here.
US Dairy calls for tariffs on Canada for not meeting USMCA obligations
The U.S. Government will levy retaliatory tariffs on Canada for failing to meet dairy market access obligations under the U.S.-Mexico-Canada Agreement (USMCA).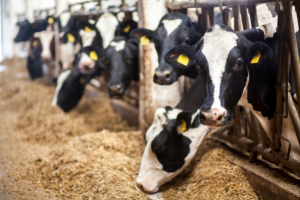 June is for celebrating the contributions of the dairy industry
Dairy Month started as a way to promote drinking milk and stabilize the dairy demand when production was at a surplus. Now, it's a tradition that celebrates the dairy industry.
More news in ANIMAL AGRICULTURE
Secretary Vilsack approves additional funds to support Highly Pathogenic Avian Influenza response – The USDA's Animal and Plant Health Inspection Service (APHIS) continues its efforts to respond to an outbreak of highly pathogenic avian influenza (HPAI) in the United States.
Vietnam first to commercially produce African swine fever vaccine – On Wednesday, Vietnam's Ministry of Agriculture and Rural Development held a press conference to announce the successful production of a commercial vaccine for African swine fever.
Do Good Foods begins sale of 'carbon reduced' chicken – The production process uses chickens fed a diet of upcycled surplus food from grocery stores.
$1.1 billion next-generation beef plant proposed for Rapid City, SD – Kingsbury and Associates announced plans to build a $1.1 billion state-of-the-art beef and bison processing plant that would harvest 8,000-head per day. The proposed facility would cover 1-million square feet and employ 2,500 workers.
Welfare, not sustainability, drives meat alternative interest – The poultry industry can use this information to maintain market share.
USDA to host antimicrobial resistance workshop – The workshop will be open to the public and will find opportunities for collaboration and guide future planning on this topic across the One Health interfaces of food safety, animal health, human health, and the environment.
Experiment station researcher in search of a more water efficient chicken – In a world with shrinking freshwater resources for a growing human population, where do you find enough moisture to grow food? You might start by improving water use efficiency in the world's number one livestock animal: chickens.
The debate on how to classify lab-grown meat is raging – As a slaughter-free alternative, the controversy surrounding how to accurately label lab-grown meat is increasing.
BECOME A MEMBER
Become a member of NIAA to network with a diverse audience, influence industry directed solutions and stay informed on information within animal agriculture. Join today!
OPPORTUNITIES in Animal Agriculture
SUBSCRIBE
Subscribe to our newsletter to stay on up-to-date on our events and the latest news in animal agriculture!